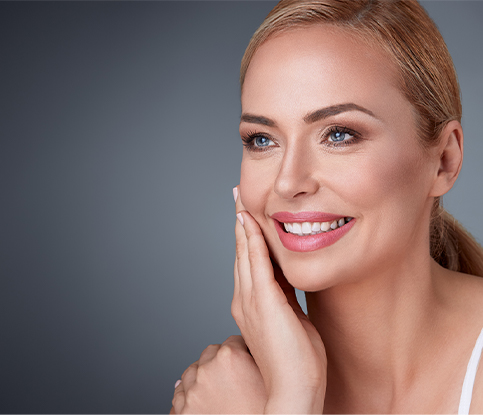 Facial Implants (Chin, Cheek) Glendale, CA
A Facial Implants in Glendale helps to restore a more youthful appearance to your face.
Unfortunately, everyone is not born with a perfectly proportioned face. Many times due to genetics or an abnormality in the developmental growth areas of the face, deficiencies in projection or asymmetries in facial form and balance may occur. These deficiencies can be corrected or significantly improved with facial implants. Prominent cheekbones and a strong chin have long been considered traits of physical beauty.
With the development of new materials, there is now a safe and permanent treatment to correct the deficient chin and provide those high cheekbones. Many times these procedures can postpone the need for a facelift by improving the contour and restoring sagging tissue under the chin and in the midface area. A consultation with Dr. Martin Stepanyan can determine if you are a candidate for these procedures. Read on to learn more, or complete our online form to schedule a consultation to find out if facial implants are right for you.
Aesthetic chin surgery is performed to improve the balance of your facial profile and correct a weak chin. Chin augmentation with implants is the procedure of choice for most patients with normally functioning teeth and jaw development. A biocompatible implant is placed over the bone structure of the lower jaw, augmenting the dimensions of your jaw. Depending on the region augmented, you can create a stronger and/or wider chin, and even lengthen your face.
Many people consider full cheeks very attractive. Weak cheeks can make your face appear gaunt, and create an aged appearance to the under-eye area. Cheek augmentation can restore the fullness to your cheeks if it has been lost with aging, or can create the appearance of strong cheek bones if you never had them.There are many options for aesthetic cheek surgery, depending on your particular appearance, and the look you wish to attain. The operation adds volume to the cheek by effectively augmenting the bone structure of the cheek region, enhancing the foundation of your mid-face.
Specializing in Cosmetic & Reconstructive Surgery
Dr. Martin Stepanyan is a Board Certified surgeon with over 15 years of excellent education, extensive training and over 22 years of successful practice in the field of Cosmetic & 
Reconstructive Surgery and Maxillofacial Surgery.
Are Facial Implants Safe?
The material is expanded Polytetrafluoroethylene (ePTFE) which has been used in millions of patients around the world with no reported cases of allergic reaction. These implants come in a variety of sizes and shapes and can be trimmed to fit each individual.
What Can I Expect During a Chin/Cheek Implant Surgery?
These procedures can be safely performed in the office setting utilizing general anesthesia, IV sedation or local anesthesia. The implants are usually placed through small incisions inside the mouth and secured into position. The incisions are then closed with small resorbable sutures.
Though most insurances will not cover these procedures because they are considered cosmetic, they may cover some or all of the procedure if the implants are used to correct a facial deformity or defect. We invite you to consult with our finance specialists for more information.
Schedule A Consultation For A Facial Implants In Glendale, CA
Dr. Martin Stepanyan believes in changing his patients' lives by providing truly individualized care. Offering state-of-the-art treatments and technologies paired with genuine expertise, Dr. Stepanyan will work with you to help you look and feel your best. If you are ready to experience facial rejuvenation, your next step is to meet with Dr. Stepanyan and the team at Stepanyan Surgical Arts Center today. Complete our online form or call us at (818) 551-0088. We look forward to meeting you soon!