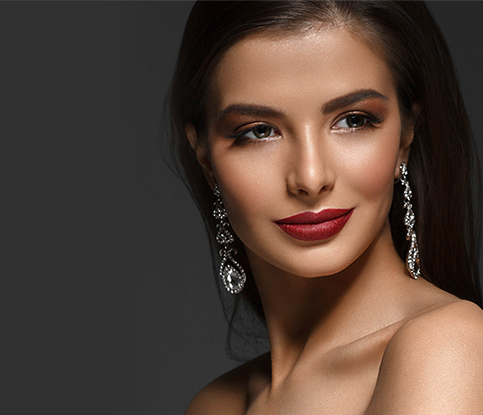 Juvederm Voluma XC & Kybella Glendale, CA
JUVEDERM® VOLUMA® XC is the first and the only FDA approved filler to instantly add volume and subtly lift the cheek area, balancing facial features. These injections can also reduce wrinkles and fine lines in different areas of the face. JUVEDERM VOLUMA XC comes from the Allergan family, the creators of BOTOX®, Juvederm Ultra and Juvederm Ultra Plus. This smooth gel formula is able to contour and sculpt the face with strategically placed injections. JUVEDERM VOLUMA XC contains a modified hyaluronic acid (HA), derived from a naturally occurring complex sugar. To reduce pain during the procedure, JUVEDERM VOLUMA XC contains a numbing agent called lidocaine.
What Happens During Dermal Filler Treatment?
Dr. Martin Stepanyan will examine your facial structure and discuss your areas of concern. He will then recommend a specialized JUVEDERM VOLUMA XC treatment plan that will deliver your desired aesthetic results. All questions and concerns will be addressed during the initial consultation.
During this treatment, injections are placed around the cheeks to restore volume and augment deficiencies. This treatment may take anywhere from 15 to 20 minutes. Injections will be placed around the targeted areas to deliver the best results possible. Pre-injection numbing with cream; icing gel or intra-oral injections are available at our office.
Results are immediately noticeable and will improve within the following months. Temporary bruising, tenderness and swelling may occur after the treatment. Our office will provide all the instructions needed to reduce and minimize the swelling and bruising. Recovery timelines and results will vary with each patient. Dr. Stepanyan will schedule a postoperative appointment to evaluate your healing process.
If you are interested JUVEDERM VOLUMAXC treatment contact Stepanyan Surgical Arts Center and book your appointment today.
Specializing in Cosmetic & Reconstructive Surgery
Dr. Martin Stepanyan is a Board Certified surgeon with over 15 years of excellent education, extensive training and over 22 years of successful practice in the field of Cosmetic & 
Reconstructive Surgery and Maxillofacial Surgery.
Kybella Treatment in Glendale, CA
KYBELLA® (deoxycholic acid) injection 10mg/ml is an FDA approved prescription medicine used in adults to improve the appearance and profile of moderate to severe fat below the chin (submental fat), also called "double chin." When injected into the fat beneath the chin, KYBELLA permanently destroys fat cells. Your body's natural metabolism then processes the fat cleared from the treatment area. Once the fat cells are gone, you are left with a noticeable reduction in fullness under the chin. The active ingredient in KYBELLAis synthetic deoxycholic acid. Deoxycholic acid is a naturally occurring molecule in the body that helps break down fat. KYBELLA comes from the Allergan family, the creators of Botox, Juvederm Voluma, Juvederm Ultra and Juvederm Ultra Plus.
What Can I Expect During Kybella Treatment?
During the initial consultation, Dr. Stepanyan will examine your problem area and customize the treatment plan according to your needs. At this point, any questions or concerns will be addressed.
The treatment consists of small injections being placed under the chin and takes around 15 to 20 minutes. The amount of injections and sessions will be based on each patient's specific needs. According to the FDA, patients are able to receive up to 50 injections in a single treatment. Up to six single treatments may be administered, spaced no less than 1 month apart. Dr. Stepanyan will help you determine how many treatment sessions will be needed based on the amount and distribution of your submental fat and your personal treatment goals.
After the treatment session, the chin may have temporary swelling, bruising or numbness.For most patients downtime occurs most commonly after the first treatment session. You should be able to resume your normal daily activities, but are likely to have swelling, so keep your social plans and work commitments in mind when scheduling your treatment.
Prior to your treatment session, our office staff will apply ice/cold packs or topical and/or injectable local anesthesia to the treatment area to make you more comfortable. We may also suggest you take an over-the-counter pain reliever before your appointment. Recovery time and results will vary with each patient. Dr. Stepanyan will schedule a check-up appointment after your treatment to further examine your healing process.
Schedule A Consultation For A Dermal Fillers In Glendale, CA
Dr. Martin Stepanyan believes in changing his patients' lives by providing truly individualized care. Offering state-of-the-art treatments and technologies paired with genuine expertise, Dr. Stepanyan will work with you to help you look and feel your best. Your next step is to meet with Dr. Stepanyan and the team at Stepanyan Surgical Arts Center today. Complete our online form or call us at (818) 551-0088. We look forward to meeting you soon!