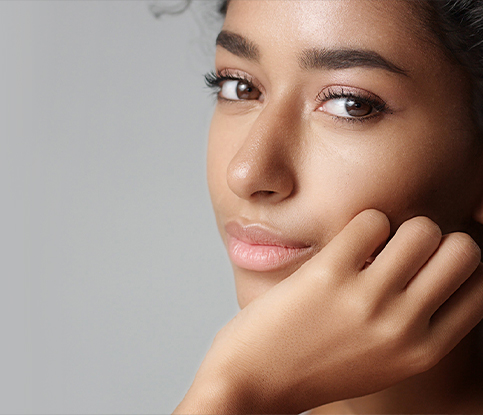 Revision Rhinoplasty | Stepanyan Surgical Arts Center
Are you unhappy with your rhinoplasty surgery? If so, you may want to consider revision rhinoplasty in Glendale, CA with Dr. Martin Stepanyan.
Because the nose plays such a prominent role in facial appearance and proportions, it's no wonder rhinoplasty is consistently one of the most popular cosmetic procedures in the U.S. Unfortunately, many nose surgery patients aren't happy with their results, leading them to seek follow-up surgery to realize their aesthetic goals.
Expert facial, reconstructive, and cosmetic surgeon Dr. Martin Stepanyan brings his extensive training, education, and experience as a reconstructive and maxillofacial surgeon to every revision rhinoplasty. Even if your initial rhinoplasty procedure wasn't successful, Dr. Stepanyan can make your dreams come true.
What Is Revision Rhinoplasty?
Revision rhinoplasty helps unhappy patients achieve the nose they envisioned when they first decided to get cosmetic surgery. However, revision rhinoplasty is more than a secondary surgery; it is an advanced, intricate procedure that focuses on correcting issues or dissatisfaction from the original rhinoplasty. Think of it as a second chance – an opportunity to fine-tune the changes or address any concerns that might have emerged after your first nose surgery.
Dr. Stepanyan emphasizes that the purpose of revision rhinoplasty goes beyond fixing mistakes. It's about restoring confidence, ensuring you can breathe easily, and ensuring your nose remains a centerpiece of balanced facial aesthetics.
Do You Need Revision Rhinoplasty?
Patients seek revision rhinoplasty for many reasons. Aesthetically, the initial surgery might not achieve the desired nose shape or harmonization with facial features. Functionally, post-surgical complications like breathing difficulties can arise. Additionally, healing can sometimes lead to unforeseen results such as asymmetry or irregularities.
Emotional dissatisfaction, where the outcome doesn't align with your envisioned result, also plays a part. Revision rhinoplasty is essential for rectifying these concerns, ensuring you attain your ideal appearance.
Specializing in Cosmetic & Reconstructive Surgery
Dr. Martin Stepanyan is a Board Certified surgeon with over 15 years of excellent education, extensive training and over 22 years of successful practice in the field of Cosmetic & 
Reconstructive Surgery and Maxillofacial Surgery.
How Is Revision Rhinoplasty Different From Rhinoplasty?
Revision rhinoplasty requires an especially skilled and seasoned surgeon. That's because operating on already altered tissues, handling scars, and managing possible compromised blood supply to the region makes revision rhinoplasty far more challenging than the original surgery.
There are pronounced distinctions between primary and revision rhinoplasty, and understanding these differences is crucial.
Procedure Complexity
Desired Outcome
Surgical Techniques
Recovery
Emotional Issues
Cost
Procedure Complexity
Revision rhinoplasty requires Dr. Stepanyan to deal with a previously surgically altered landscape. The tissues have changed, scars may be present, and some vital anatomical landmarks may no longer be present.
Desired Outcome
Surgical Techniques
Recovery
Emotional Issues
Cost
What Does Dr. Stepanyan's Revision Rhinoplasty Procedure Involve?
Located in the scenic surroundings of Glendale, Dr. Stepanyan's Surgical Arts Center epitomizes a blend of cutting-edge techniques and patient-centered care. His approach to revision rhinoplasty consists of several pivotal stages.
To begin, you will sit down with Dr. Stepanyan for an in-depth consultation that takes at least one hour, though it could last longer if you have many questions. Dr. Stepanyan takes a meticulous approach to understanding your needs and wants, leaving no stone unturned.
Dr. Stepanyan uses advanced 3D imaging to help his patients visualize their potential post-surgical outcome. This step is integral for managing expectations and ensuring you are fully aware of what your results will look like.
During your consultation, Dr. Stepanyan will give you detailed instructions, including information on medications to avoid, dietary restrictions, and pre-surgical skin care that will help with optimal recovery and results.
On the appointed day, please arrive an hour before your surgery starts. This time is the final opportunity for you and Dr. Stepanyan to review risks, potential complications, alternative treatment options, and post-operative expectations.
Dr. Stepanyan will also reinforce post-operative instructions and medications, arming you with knowledge about how to have a smoother healing period.
Dr. Stepanyan has continually refined and innovated his surgical techniques throughout his extensive career. This evolution has resulted in improved procedures tailored specifically for revision rhinoplasties. His bespoke techniques are a testament to his commitment to delivering unparalleled results, ensuring every patient leaves with a renewed sense of confidence and satisfaction.
By entrusting Dr. Stepanyan with your revision rhinoplasty, you put yourself in the care of a surgeon whose practice prioritizes thoroughness, innovation, and an unwavering commitment to excellence.
After the procedure, you will move into a comfortable recovery area, where Dr. Stepanyan and his team will monitor your well-being. Comprehensive aftercare guidelines prepare you for the days ahead, covering aspects like wound care, activity levels, and medication schedules.
Regular follow-up sessions keep healing on track, allowing Dr. Stepanyan to swiftly address any concerns. You'll find Dr. Stepanyan's commitment doesn't wane with time, as he believes in fostering a lasting relationship with his patients, offering check-ins even years after the procedure.
Revision Rhinoplasty in Glendale, CA
As a rhinoplasty and revision rhinoplasty specialist, Dr Stepanyan is one of the most experienced plastic surgeons in Glendale and the surrounding communities. Out-of-state patients travel to him for aesthetic and reconstructive surgeries, especially revision rhinoplasty.
If you want nothing but the best to ensure you finally receive your desired results with revision rhinoplasty, book an appointment with Dr. Stepanyan online or by calling (818) 551-0088 today.